Multimedia Publishing Guideline
Practically, video production is the art and service of creating content and delivering a finished video product. This can include production of television programs, television commercials, corporate videos, event videos, promo videos and special-interest short film. UTeM Press have a group of passionate people who believe to bringing in the idea of minimalism of design and cinematography together to create our very unique way of film making.
Corporate Video
Corporate video refers to any type of non-advertisement based video content created for and commissioned by a business, company, corporation, or organization. Today, the vast majority of corporate video content is hosted online and is published on the company's website page and distributed through social media or email marketing.Corporate video content is targeted towards that company's core selling demographics or internal employees. Corporate video production is frequently the responsibility of a marketing director or corporate communications manager. Examples of corporate video include Corporate overview videos, staff training and safety videos, promotional/brand films, investor relations and shareholder videos, market updates, product videos, executive proposal videos, and customer testimonial videos.
Montage
Montage is a technique of film editing that combines a series of short shots or clips into one sequence, often set to music. The word montage is French for "assembly" or "editing." Montage sequences often imply the passage of time or multiple simultaneous events, and are a vehicle to present the audience with a lot of information at once. They can be used to evoke a range of emotions.
Explainer Video
An explainer video is a marketing tool to introduce your company and summarize the basics of your brand such as your product and services. Ultimately, an explainer video answers the questions, "Who are you and what do you do?". Beyond the multitude of benefits of an explainer video, they're also a great way to engage potential customers. That's because, in general, people prefer video over text. One study found that landing pages with explainer videos have an 86% better conversion rate than those without.
Video Editing
Video editing is the manipulation and arrangement of video shots. Video editing is used to structure and present all video information, including films and television shows, advertisements and such. Video editing has been dramatically democratized in recent years by editing software available for personal computers. Editing video can be difficult and tedious, so several technologies have been produced to aid people in this task.
Service Application Terms
a. Applications must be forwarded to the University Press a month before the required date using the Service Application Form together with the materials to be published.
b. The storyline must be prepared by the applicant in collaboration with the University Press..
c. The style and creativity of presentation is determined based on our expertise and according to the suitability of the event purposes.
d. Any amendment is allowed only three (3) times depending on the required date timeline before the event/ceremony takes place.
e. Applicants will receive a softcopy of the completed video presentation in full HD mp4 format within five (5) days depending on video amendments and improvements were made that will effect the submission date;
f. The University Press also have the right to reject applications that do not comply with the stipulated period.
MCP/SCP & Drone Recording Services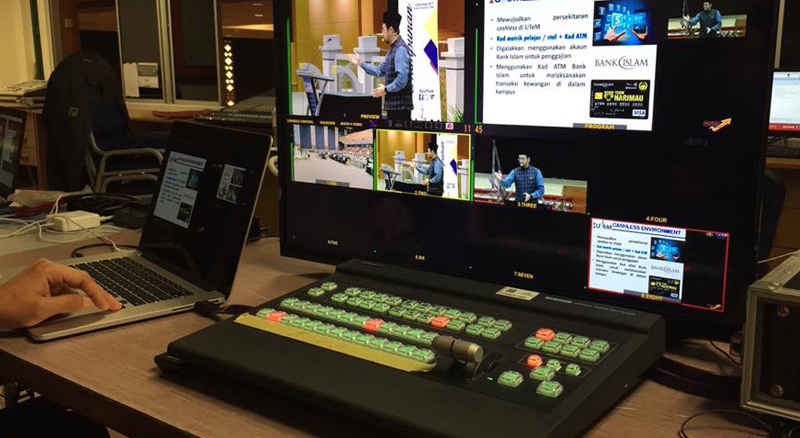 MCP (Multi-camera Production)
Multiple-camera setups are an essential part of live television.[4] The multiple-camera method gives the director less control over each shot but is faster and less expensive than a single-camera setup. In television, multiple-camera is commonly used for light entertainment, sports events, news, soap operas, talk shows, game shows, and some sitcoms. Multiple cameras can take different shots of a live situation as the action unfolds chronologically and is suitable for shows which require a live audience. For this reason, multiple camera productions can be filmed or taped much faster than single camera. Single-camera productions are shot in takes and various setups with components of the action repeated several times and out of sequence; the action is not enacted chronologically so is unsuitable for viewing by a live audience.
SCP (Single Camera Production)
In this setup, each of the various shots and camera angles is taken using the same camera, or multiple cameras pointed in one direction, which are moved and reset to get each shot or new angle. If a scene cuts back and forth between actor A and actor B, the director will first point the camera toward A and run part or all of the scene from this angle, then move the camera to point at B, relight, and then run the scene through from this angle. Choices can then be made during the post-production editing process for when in the scene to use each shot, and when to cut back and forth between the two (or usually more than two) angles. This also then allows parts of the scene to be removed if it is felt that the scene is too long. In practice, sometimes two cameras shooting from the same angle are used: one to capture a medium shot, the other a close-up during the same take.
Drone (Aerial Video Recording)
Drones provide some of today's most exciting footage, from capturing a new perspective for a wedding to highlighting the dynamic nature of your workplace or even looking for people and damage during a natural disaster. Drone video services can provide a bird's eye view of what matters most to you. NextThought Studios has worked with a wide range of concerts, schools, personal events and other action to find a perspective that shows the whole picture. We're expanding our aerial videography company options because we view drones as a key part of the future of capturing the events of our lives. High-end aerial photography is becoming safer and more affordable thanks to drones, so you should expect to see it become a popular tool in everything from home movies to leading documentaries where storytelling is a fine art.
Service Application Terms
a. Reservations must be made within fourteen (14) working days by using Service Application form;
b. This service prioritizes only official university functions; and
c. Applicant must provide a vehicle and accommodation (if the recording coverage exceeds one day) outside the state of Melaka.